Wednesday, 24 October 2007
New issues , Pamela Miller Ness, Marvin Bell and more ...

---
It seems the older I get, the more time there is between issues. The new issues will be rolling out in November and December, contributor copies going out first and then the full run of subscribers. Issue numbers 159 and 160 will feature the work of John Martone and Yosano Akiko, newly translated by Dennis Maloney.
It is very exciting to see up and online a pdf version of Origin: Sixth Series, from Longhouse and featuring the work of the selfsame John Martone and continuing the fine editiorial of the late Cid Corman. This 370 page journal is a model of both poetry and Internet publishing and is not to be missed.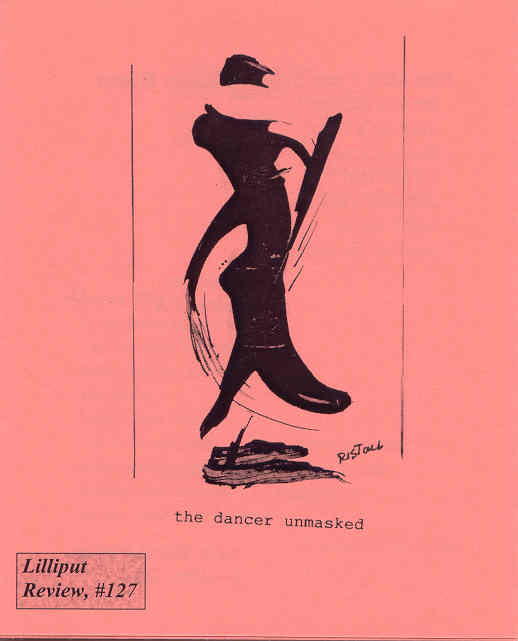 This week's issue is #127 (November 2002), with a cover by Harland Ristau. Harland was a great correspondent, artist and poet, whose work had its origins in the Beats. His recent passing has left an unfillable gap for those who knew him. From this issue, the following:
About Me
I can see parts of myself
I never saw before
now that the leaves
are gone.
Like I can see
cut rows of corn
with pecking black birds
behind the loosely
woven trees of November.
--- Carlo D'Ambrosi
Dancing Ganesha

god with elephant head,

lend me

your tusk dipped in ink, let me

write long, long as the Ganges

--- Pamela Miller Ness
To Him:

You have buffed

and waxed poetic,

until your conscience is so clear

it is invisible.

--- Jen Hawkins
sleep on the road.

listen to the autumn wind

you'll know what I mean

--- Basho

Rendered by Scott Watson
Finally if you have a chance, check out Marvin Bell's poem A Campus in Wartime, as read by Garrison Keillor on The Writer's Almanac this past Wednesday.
It seems we always need reminding.
---
Posted by donw714 at 06:34 EDT |
Post Comment
|
Permalink
Updated: Saturday, 3 November 2007 06:32 EDT
Share This Post

View Latest Entries